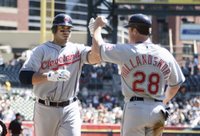 Well it's not really a journey because I live about two miles from Comerica, but short hop or quick trip doesn't sound as interesting nor as epic as journey or adventure. Regardless I was able to attend this Saturday's Tigers-Indians game at Comerica with my friend Matt and his friends Nick and Matt #2. It's next to impossible for me to write a coherent paragraph about a series of events over a short period of time, so in lieu of this I'm going to take the easy way out (is there any other way) and write a timeline of the events leading up to the game.

Friday April 14.

11:00 P.M. After working hard on my outline for Property for a whole five minutes I reward myself by
perusing the internet for the next two hours. After realizing that Deadspin stopped updating 6 hours ago, I stop checking their site, and instead start refreshing my Yahoo! fantasy baseball page. After getting bored with this after about 20 minutes I make my way to detroittigers.com, to see what the pitching matchup is for the next game. I'm thrilled to find out its Jeremy Bonderman who Ive never seen pitch, and not that Nate Robertson bastard who Ive seen pitch 1,078 times, and then I'm horrified to see that some guy named Fausto Carmona is making his major league debut against the Tigers. Normally it would be a good thing to face a guy making his debut and hope he get's nervous and starts grooving his pitches, or pull an Adam Pettyjohn and throw up on the mound. However we are talking about the Tigers and normal baseball logic doesnt apply to them, because they usually get owned by guys making their debut, and then after the game say things like "We didn't have video of the guy". We''ll see how this turns out.

Saturday April 15

10:30 A.M.: My alarm goes off and I open my eyes and listen to my brain say, "Dude, Andy, what the hell's going on, it's only 10:30 A.M..........on a Saturday, you don't have to get up for another four hours, and what's with the sunlight, draw the shades and go back to sleep." And seeing how it's early morning, and I'm tired, I find my brain's argument more then reasonable, hit the alarm and go
back to bed.

10:45 A.M.: My phone rings and now I really don't know what the hell's going on. Groggy, I look at the phone and see "Matt"on the screen, and cycle through all the Matt's in my head. Matt Dillon, Matt Groening, Matt Morris, and Matt Anderson are readily dismissed because I don't know any of them. Mats Sundin? That doesnt even make sense. Maybe my cousin Matt from California.......no I havent talked to him in years and don't know his number. Matt......Matt............TIGERS GAME!!!!

11:30 A.M.: I arrive at Matt's, meet his buddies, watch a bit of the Devil's Advocate, debate weather Keanu Reeves career peaked with Bill & Ted, watch an old ass Jeopardy on Game Show Network and call a cab to take us to Comerica, because 1) it's only $5 and 2) we dont have to deal with parking.

12:30 P.M. Cabbie arrives right on time and to our surprise Dmitri Young is driving, it's nice to see
him reach out to fans even when he's on the DL. Seeing as how there is four of us one has to ride shotgun with D'Stink Hook, and when Matt goes to hop in the front seat he finds what you would expect to find in a Detroit cab: A bag of White Castle and a 12 inch long hunting knife.

12:45 The cabbie drives us 10 miles in the wrong direction, pulls the knife on us and tells us to put our wallets on the seat and get out...........well actually this didnt happen.......we get to the stadium, but honestly when I wrote that first sentence you wouldnt have been surprised if this happened next. You racist.

1:00 We settle into our seats behind the third base line and being at Comerica on a perfect spring day in April makes me feel alive. However after a looooooooong winter inside I'm about three shades paler than death so no one would be able to tell I felt or even was alive and the sun is beating mercilessly.

1:01 I'm sunburned.

1:05 Top of the 1st, Hafner comes up as I debate what I should yell at him, before I even get a chance to think of something funny, or at least offensive to antagonize the group of Indians fans sitting in front of us CRACK!!!!! Hafner hits the first pitch about 600 feet to rightfield effectively shutting me up for the rest of the afternoon.

1:20 Bottom of the 1st, Granderson leads off with a single, and I'm thinking we might give Fausto some trouble, then Infante strikes out, followed by a double play by Guillen......uh oh.

Top of the fourth: Maybe I will give Hafner crap today, just in spite of the aforementioned Cleveland
fans in the row in fr..........CRACK, double of the base of the wall. Jesus Christ this guy's good. Bonderman starts getting hit around, and after each walk Carlos Guillen walks towards the mound and gives Bonderman the Roger Dorn "Strike this motherfucker out!" speech.......to no avail. By the time all is said and done Bonderman gets chased after giving up a double to the most random Rookie of the Year ever Todd Hollandsworth, and everyones favorite adult film star Jordan Tata gets out of the inning.

Bottom of the sixth: The guy I came to see, the man who has single handedly kept my fantasy team afloat for the first week and a half, the red-hot Chris Shelton, is coming up with two on and one out and is due. Fausto is circling the mound and officially sweating bullets. Shelton will show those obnoxious Cleveland fans who the best young hitter in the AL Central is........wait what's happening? Double play inning over.

Bottom of the eighth: Matt Miller strikes out the side, we realize that not only is Dmitri Young driving fans to the game, he's also selling Lemon Chill's in the stands. We also realize that no one has talked or moved since the conclusion of the sixth as the sun has completely sucked the energy out of all of us and one of us may have actually evaporated.

Bottom of the ninth: Tigers go down swinging with Vance Wilson striking out: I peel myself out of my seat, go to the bathroom to assess the damage, see that my skin is identical to the color of the Phillies shirt I was wearing and leave Comerica. We hail a cab, pile in, the driver looks like an old black Krusty the Klown with white hair and smells like burning trash, but everyone's too tired and miserable to care........but we can all agree that we can't wait to go back.